Beginners Guide To Cuyuna
Cuyuna Minnesota offers outdoor adventure for all ages and skill levels and it's only two hours from the Twin Cities. It's not all large bike jumps and steep hill climbs. It offers many beginner trails that run through beautiful woods and by beautiful lakes.
Beginner Trails
The trails are classified like downhill ski runs. There trails range from easiest to extremely difficult and all are labeled with signs on on trail maps. Some of the favorite beginner trails include Dragline, Bobsled, Galloping Goose. Here's a link to videos of the trails. If you don't have a bike, you can always rent one from area bike shops. The crystal clear mine lakes offers many fun adventures as well.
Paddling Mine Lakes - Cuyuna is one of the best paddling destinations in Minnesota Stand up paddle boarding and kayaking is particularly appealing in Cuyuna. This is because the lake holds pure and crystal clear waters. You can see down in the water for almost 40 feet. This amazing view will let you see the life underneath the surface. One of the best things of paddling is watching the sights. In Cuyuna you are getting not just the sights of your surroundings, but also the sights of beneath the surface. Always wear life jackets because the mine lakes are deep. Here's a link to local outfitters offering paddle boards, kayaks and canoes. Photo credit: Lowlight Images
Additional activity options in Cuyuna
1. Dining - Cuyuna is home to many great dining options. Here's a link to some great options.
2. Lookout Mountain - From the DNR's website: The overlook at Miner's Mountain is the tallest point in the recreation area. It was created by miners, one dump truck at a time, disposing of glacial till and low grade ore. Mountain bike trails cover most of this beautiful hill. There is also a road leading to the top, making it one of the most accessible overlooks in the area. Huntington Mine Lake is in the foreground and is 258 feet deep. This is a great location for observing sunrises, sunsets, star gazing, changing weather conditions, or just catching a cool breeze. Link to website
3. Minnesota Mining History Lesson - The Soo Line Depot Museum. Joel Lena from San Francisco says this local, free admission museum is definitely worth a stop. It is a museum of the local mining activities as well as many artifacts of Americana. Kids will get a kick out of seeing original snowmobiles, birch bark canoes and 1920 era home appliances. The volunteers are knowledgeable and enthusiastic. A great stop. (101 1st Street NE, 218-546-6178) in Crosby. Soo Line Depot Museum is open from Memorial Day Weekend to Labor Day Weekend from Tuesday to Saturday, 10:00 AM to 4:00PM. Link to website. Photo credit: Soo Line Depot Museum
4. Picking Fresh Strawberries - Elm Island Lake Berry Farm is family owned and is about 20 miles from Cuyuna. Pick your own strawberries on small fields surrounded by woods and natural hay fields. Picking usually begins the last week of June. Address: 36854 Deer St, Aitkin, MN 56431. Phone: (218) 927-3087 Link to website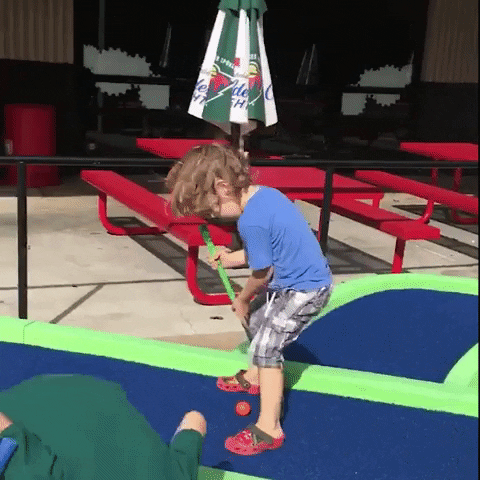 5. Mini Golf at Traditions at Cuyuna Falls - This is a top 5 Mini Golf Course in Minnesota. It features a waterfall, fountain ponds, bridges, breath taking landscape and music plays throughout the entire course! It also has batting cages and water wars game. Traditions Mini Golf (24228 State Highway 210, 218-534-9250) in Deerwood. Open daily summer. Link to website
6. Paul Bunyan Land - – A quick 20 minute drive will get you to see the real 26 ft. Paul Bunyan. Paul Bunyan Land is an amusement park that offers several recreational and entertainment services for kids and adults. It has several rid